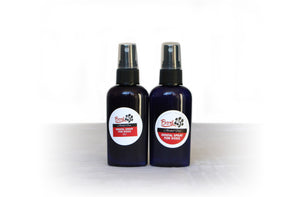 Bark 5 Dental Spray
Canadian Made!

Easy to use and safe, boasting a non-alcohol formula with anti-oxidants.
Simply spray into dog's mouth, between cheek and back teeth, once a day. Please wait 20 minutes before and/or after meals or water to apply.
DOSAGE:
Small Dogs Under 20lbs:   2 Sprays per day
Medium to Giant Breeds:    4 Sprays per day.
May safely be doubled spacing applications once every 9-12 hours apart for dogs with high amounts of tartar or bacteria. 
DO NOT USE ON CATS!
Do not use if your dog has a bee or bee pollen allergy.
INGREDIENTS:
Proprietary Blend of: Grapefruit Seed Extract (Citrus paradisi, seed, pulp), Grape Seed Extract (Vitis vinifera, seed) Distilled Water, Erba Propolis
60ml Bottle, Approx. 360 sprays per bottle.
Also Available in an EXTRA STRENGTH Formula! Bark5 XXS