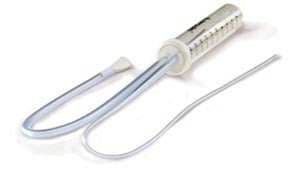 Delee Suction Catheter
A Must-Have in your Whelping Kit!
Gentle suction is used to help remove mucous from nose and mouth in newborn puppies.
The fluids are deposited into the vial, not your mouth. If something looks untoward in the fluid you now have a handy way to get the sample to the veterinarian for testing.
Packed in sterile wrap. One time use is recommended per litter.
10FR  Can be used on all breeds.
Here is a quick video to show it's use: