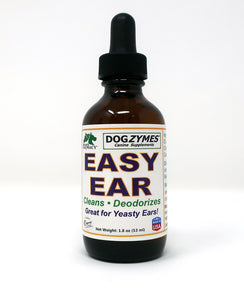 DogZymes Easy Ear 1.8 oz
Nature's Farmacy Easy Ear is our own blend of essential oils. No Propylene Glycol or Alcohol.
Excellent for cleaning and deodorizing the ear. Does not dry or irritate the ear. Really brings the "gunk" out of the ear. Perfect for dogs with yeasty ears!!

Very popular, works great, smells great. 

Ingredients: Organic Virgin Olive Oil, Sunflower Oil, Oils of Grape Seed, Apricot Oil, Neem Oil, Orange Oil, Citronella Oil, Lemon Eucalyptus Oil, Aloe Vera Extract

Directions for Use: Apply several drops into ear canal and massage well. Remove excess debris and product with cotton or swab.

Warnings: Canine use only. Do not use on Cats and Birds. Keep away from open flame. Topical Use Only
Store in cool dry place.