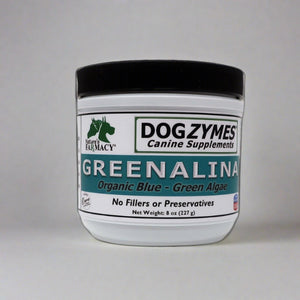 DogZymes Greenalina (Spirulina)
Greenalina - Hawaiian Blue-Green Algae

Long known as a "super-supplement" for it's many healing properties.
Contains:
Trace minerals, Vitamin B-12, Beta-Carotene, and essential fatty acid GLA (Gamma-linolenic acid). Spirulina is a 60% Protein product packed with many benefits.
Phytonutrients to boost the immune system:
Helps with:
Allergies, reduces infection, cancer, auto-immune issues. Chlorophyll helps remove toxins. It builds new blood cells such as Bone Marrow Stem, T-Cells to help the body fight cancers and infections.
Spirulina helps suppress harmful e-coli and yeast. It stimulates the production of beneficial gut flora.
An excellent article on the benefits can be found here:
http://www.dogsnaturallymagazine.com/benefits-of-spirulina/
Daily Suggested Usage:
Stir into food or feed directly. 
Under 40lbs .......... 1/4 Teaspoon
40 - 90lbs  ............. 1/2 Teaspoon
90+ lbs    ................. 1 Teaspoon 
If stomach upsets occurs, cut dosage in half or feed every other day.
8oz