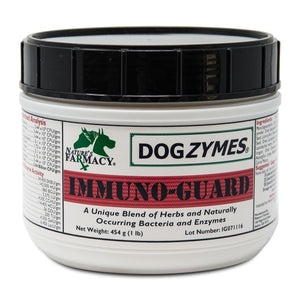 DogZymes ImmunoGuard
A Unique Blend of Herbs and Naturally Occuring Bacteria and Enzymes.
Designed to help support the canine immune system in times of stress or as a preventative. 
* Formula is rich in Vitamin C and A. 
* Natural sources of Minerals such as Potassium, Folate, Calcium, Zinc.
* Supports digestive, respiratory systems.
* May benefit against parasites, viruses, and bacterial infections.
* Excellent to add to weaning puppy diets to help prevent coccidia. 
* Formula may be added to fluids and used in a syringe or simply added to foods.
INGREDIENTS:
Dried Organic Whey, Fructooligosaccharide, Manaoligosaccharide, Dried Saccharomyces cerevisia, Dried Yucca schidegera powder, Dried Specialized Milk Protein, Dried Powder of: Lemon Peel, Anise Seed, Licorice Root, Pumpkin Seed, Milk Thistle Seed, Fennel Seed; Dried Lactobacillus acidophilus, Dried Lactobacillus rhamnosus, Dried Lactobacillus reuteri, Dried Bifidobacterium adolescentis, Dried Bifidobacterium longum, Dried Enterococcus faecium, Dried Fermentation Extracts of: Aspergillus oryzae, Aspergillus niger, Trichoderma reesei, Ananas comosus, Carica Papaya.
DAILY SUGGESTED USAGE:
Per:
10lbs .......... 1/4 Teaspoon     25lbs.......... 1/2 Teaspoon     50lbs .......... 1 Teaspoon      
Dosage May Safely Be Doubled in time of Stress or Compromised Digestive Function
1LB