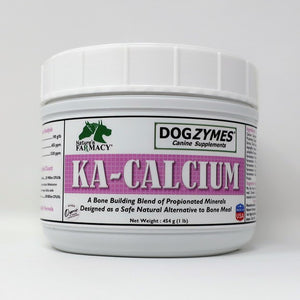 DogZymes KA Calcium
Dogzymes KA Calcium is a Calcium supplement formula using Calcium Propionate and Alfalfa for sources of nutrient absorption. KA Calcium contains a probiotic package to help with its own absorption and utilization. A bone building blend of propionated minerals designed as a safe alternative to bone meal!

Guaranteed Analysis:
Calcium Propionate 190g/lb
Copper Propionate 445 ppm
Zinc Propionate 1,330 ppm

Total Microbial Count:
Lactic Acid Producing Bacteria 225 Million CFU/lb (Colony Forming Units) - Lactobacillus acidophilus, Enterococcus faecium, Bifidobacterium thermophilum, Bifidobacterium longum, Bacillus subtilis
Saccharomyces cerevisiae 300 Billion CFU/lb

Ingredients:
Calcium Propionate, Alfalfa Meal, Dextrose, Calcium Carbonate, Mineral Oil, Active Dry Yeast, Zinc Propionate, Copper Propionate, Yeast Culture, Yucca schidigera Extract, Dried Aspergillus niger Fermentation Extract, Dried Aspergillus oryzae Fermentation Extract, Dried Lactobacillus acidophilus Fermentation Product, Dried Enterococcus faecium Fermentation Product, Dried Bifidobacterium thermophilum Fermentation Product, Dried Bifidobacterium longum Fermentation Product, Dried Trichoderman longibrachiatum Fermentation Extract, Dried Schizosaccharomyces pombe Fermentation Soluble, Dried Bacillus subtilis Fermentation Product.

Suggested Usage for Dogzymes KA Calcium:

FOR DIETS USING BONELESS MEAT - CAN BE RAW OR COOKED - IDEAL FOR RAW!

*Mix into food or feed directly. For best results, feed in every meal.
*Not intended to be the sole source of nutritional supplementation.
*1 teaspoon per cup (1/2 lb or 8 oz) of boneless meat
* A 1 pound jar contains about 167 teaspoons.
It is excellent for adding extra calcium to nursing females on a raw diet. Also a great product to supplement raw diets that do not contain ground bone or raw-meaty bones. This formula is a lower phosphorus blend which is also recommended for renal home-cooked diets.
PER 5 GRAM SERVING - APPROXIMATELY 1 TEASPOON
Calcium ( Minimum) ........... 525 mg
Calcium (Maximum) .......... 800 mg
1 LB