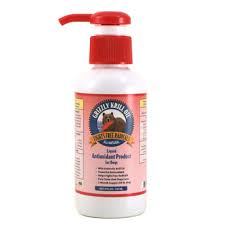 Krill Oil (Grizzly Brand)
Wild from the Antarctic Ocean… Grizzly Krill Oil: a super antioxidant product for dogs and cats!
Up to EIGHT times more Antioxidants
Wild krill from the pristine waters of Antarctica contain high levels of an inherent antioxidant called Astaxanthin: this is what gives krill its deep red color. Grizzly Krill Oil contains up to EIGHT times more Astaxanthin than Krill Oil for humans, making it an extremely powerful antioxidant product for dogs and cats. Antioxidants have been shown to aid in the elimination of harmful molecules called "free radicals."
Supports Optimal Health
In addition to supporting your dog or cat in fighting free radicals, the inherent antioxidants in Grizzly Krill Oil also help support the health of your pet's liver, ocular, respiratory, cardiovascular and vascular functions, as well as helping to maintain good health in all the body's cells and tissues.
Helps Your Pet Absorb Nutrients
Grizzly Krill Oil does not contain omega-3 fatty acids like other fish oils, but instead contains omega-3 lipids (phospholipids). Due to their chemical structure, phospholipids act much like an emulsifier that assists your pet in absorbing nutrients. Lipids are very important elements in all cell membrane structures; providing a variety of phospholipids in your pet's diet helps maintain healthy membranes in the digestive tract, further benefitting overall nutrition absorption.
Wild and Sustainably Sourced
Grizzly Krill Oil is sustainably sourced from wild Antarctic krill, harvested in accordance with international standards set by the World Wildlife Fund (WWF) and the Commission for the Conservation of Antarctic Marine Living Resources (CCAMLR).
Powerful Support in a Small Package
Grizzly Krill Oil is a concentrated product: a 4 ounce bottle will last the average cat (< 25 pounds) at least 4 months. For dogs, the 4 ounce bottle will last 2 months for a 50 pound dog.  Every bottle comes with a handy dispenser pump for easy use.
Directions for Use: Grizzly Krill Oil
Add daily to your dog's food according to the weight chart below. For best results, use regularly on a long-term basis. One pump stroke equals approximately 0.03 fluid ounces / 1.0 ml.
| | |
| --- | --- |
|  Body Weight |  Pump Strokes  |
|  Up to 12 pounds | 1/2 |
| 12 – 25 pounds | 1 |
|  25 – 50 pounds | 2 |
|  50 – 100 pounds | 3 |
|  Over 100 pounds | 4 |
Guaranteed Analysis (per pump)
| | | |
| --- | --- | --- |
|  Crude Fat |  99.8% |  (min.) |
|  Moisture | 0.2% |  (max.) |
|  Omega-3 Lipids* |  8% / 76 mg |  (min.) |
|  Omega-6 Lipids* | 1.8% / 17 mg |  (min.) |
|  Astaxanthin | 0.1% / 1.0 mg |  (min.) |