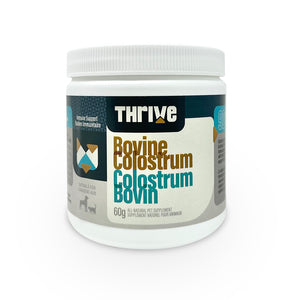 Thrive Bovine Colostrum
Colostrum contains over 90 immune factors, including the naturally occurring Immunoglobulins IgG, and IgA. Supplementation with Freeze Dried Bovine Colostrum may support healthy immune system.
May also be used a a boost into milk replacer for puppies or kittens.

Thrive Bovine Colostrum is sourced from USDA Grade A dairy cows raised in the United States. It is laboratory tested to ensure it is antibiotic and rBST-free.
Moisture (max) : 8%, protein (min) : 56%, fat (min) : 26%, Lactose (min) : 11%
per 1 g:

IgG 380mg

PRPs 150 mg

Lactoferrin 5 m
The ideal feeding choice is to offer in powder form to your pet as a treat 20 – 30 min. before feeding. The best is 1x per day, ideally first thing in the morning.

Dosage:

10 lb – 1/8 tsp

20 lb – 1/4 tsp

40 lb – 1/2 tsp

60 lb – 3/4 tsp

80 lb – 1 tsp

100 lb – 1 1/4 tsp