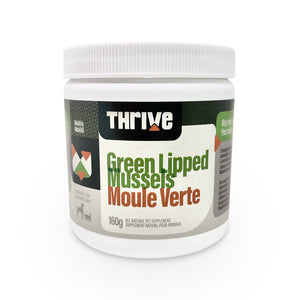 Thrive Green Lipped Mussel
100% Pure New Zealand Green Lipped Mussel
Long known for it's anti-inflammatory properties, GLM is a simple way to add glucosamine and chondroitin in an easy-to-feed powder. It also provides a natural forms of protein, minerals, and omega 3 fatty acids.
GLM is also beneficial to support canine sperm production and mobility.
DIRECTIONS:
1/4 teaspoon scoop per each 25 lbs of dog per day.
Dose may be split over two meals for better results. May safely be doubled in extreme cases for short periods of time.
For both dogs and cats.
Available in 160 gr Jar