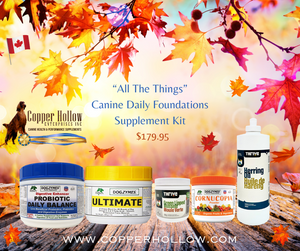 Canine Daily Foundations Kit
Looking for a comprehensive regime to add to your special dog's diet?
These are the fundamental supplements to help balance a raw or *cooked diet or to boost a kibble diet. Can be given to dogs over three months of age. (Green Lipped Mussel and Cornucopia in moderation for puppies please)
DogZymes Daily Balance Probiotics/Digestive Enzymes 1lb
DogZymes Ultimate Vitamin/Mineral/Omega Blend 1lb
DogZymes Cornucopia Organic Veggie/Fruits/Grasses Blend 8oz
Thrive Herring Omega/DHA Oil 500ml
Thrive Green Lipped Mussel Joint Support 160gr
Value $198.95    Customer Pricing $179.95
* If you are considering a cooked diet for your dog please add our DogZymes KA Calcium.
As always, we are available to discuss your dog's nutritional needs. Please reach out if you have any questions.