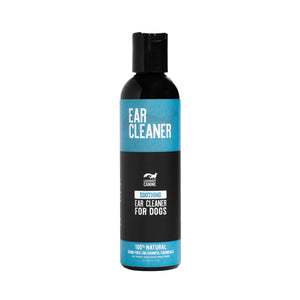 Legendary Canine Ear Cleaner
Our 100% natural Ear Cleaner with relaxing geranium, lavender and soothing aloe-vera juice is gentle and sting-free, so your pup will be comfortable. The witch hazel will help with waxy ears, foul-smelling, or itchy ears.
(A favorite with the Copper Hollow Shop Setters!)
INGREDIENTS:
Aloe Vera Gel Juice, Geogard Ect (Mild preservative), Geranium Essential Oil, Lavender Essential Oil, Turkey Red Castor Oil, Water, Witch Hazel  120ml
Instruction for use:
 Pour Ear Cleaner onto a cotton ball.
Gently wipe the inside of your dog's ear.
Give treats for a job well done!