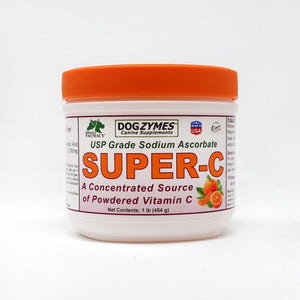 DogZymes Super C
Power-Packed Vitamin C!
A pure source of Vitamin C in a Non-Acid Powder Base. This formula is easy on dogs' intestinal tracts and is very well tolerated with maximum absorption.
Vitamin C has Multiple Uses: 
Immune System Enhancer - Free Radical Defense
Aids in Collagen Production for Soft Tissue Repair
For use in Dogs "Down in the Pasterns" to Help Strengthen Cartilage
May also assist in Bladder and Renal Health
Helps the Body Reduce Stress After Heavy Exercise, Surgery, Lactacting/Whelping.
Active Ingredients per 1 Teaspoon (3 gm):

A Proprietary Blend of: Sodium Ascorbate (vitamin C), Ascorbic Acid (vitamin C)........2,850 mg
Inactive Ingredients: None
SUGGESTED USAGE:
1/8 Teaspoon Delivers 356mg
1/4 Teaspoon Delivers 712mg
1/2 Teaspoon Delivers 1425mg
1 Teaspoon Delivers 2850mg
Dosage is applied by amount of Vitamin C needed in the diet for the individual dog's needs. Please ask us for dosing advice if you are unsure.
Enclosed Scoop Holds 1/4 Teaspoon.
A 1 lb jar contains about 134 tsp and will last any dog approximately 4 months (If given 1/4 tsp daily)